Author  |  HISTORIAN  |  CONSULTANT
Author
HISTORIAN
CONSULTANT
"For me, writing history and writing about real people, real lives, real events – real human dramas rather than fictional ones – will always be my abiding love. The key is never to allow it to become boring, to do one's utmost to bring the subject to life, to tell the story as well as any novel, and, fundamentally, to always have an insatiable curiosity about the world."
Today, as I look back over a full-time writing career that spans 20 years I often still feel surprised that in that short space of time I have managed to publish fourteen books. As history writing goes, that is a pretty fast turnaround. But then I always felt as though I had a lot of catching up to do, for I came to writing as a profession relatively late.
The ways of becoming a writer are many, and often extremely roundabout. In my case the seed was sown very early. A love of history came instinctively, at Grammar School, thanks to a wonderful teacher. When I was fourteen, Miss Perkyns taught us all about the Causes of the Crimean War and I was hooked. I wanted to read and learn and understand more about Russia and its history. Around the same time I first got into reading Charles Dickens. He had a special resonance for me, growing up as I did on the Medway Estuary within sight and smell of the water, the mudflats, the sounds of curlews that Dickens knew and loved and which became the background atmosphere of his novel Great Expectations. I was fascinated by the Victorians too, and hungry to learn more about them.
Thus were born my two great thematic loves as a historian and a writer.
But life did not take me on a straight path to writing history, despite gaining a very good degree in Russian from Leeds University and nursing a passion for Russia, its culture and its people, I chose to pursue an acting career. But I kept my Russian alive as a translator for the theatre, in between working as an actress, a secretary, a  proof reader and copy editor  before finally getting work as a freelance writer for various publishers in London and Oxford.
My grounding as a writer came from writing history articles and entries for historical reference and working on Oxford University Press quotations collections. I learnt very early on that in order to succeed as a history writer I had to drop some bad habits – leftovers from essay writing as an undergraduate. I had to stop being 'academic' and sounding worthy and learn to be commercial. Working for the Reader's Digest on popular history books, I learned to write to a disciplined length and to always make what I wrote grabby and interesting. I think my skills in narrative history were born there, in what I sometimes refer to as the 'Gosh I didn't know that' school of popular history writing.
Taking the plunge & becoming a full time writer
After several years working as a freelance editor in Oxford on academic history books, my moment of epiphany came the day one of the authors I was working with asked me 'Why are you doing this? You should be writing your own history books'.  I shall never cease to be grateful to him for giving me the impetus to do what I had always longed to do – take a deep breath, give up my other freelance work and become a full-time writer.
The principle I have worked to since then  – 1998 – is, rather than take a safe and pedestrian approach to big historical subjects, to seek out new ways of telling old stories. A writer friend once said to me rather despondently that 'there's nobody left to write about' – that all the big and interesting subjects had already been done by somebody else. But I don't accept that. There are always new ways of looking at things. And, to quote Tom Stoppard, I always keep in mind his mantra: 'Just because it is true doesn't mean it's interesting'. This is the key – to go into a subject laterally and find new ways of looking at the evidence. I love the thrill of the chase that the research process brings to writing history. Yes, it can be tedious, dull, grindingly hard work and the results are frequently disappointing. But when you strike gold … and find something new and exciting, well those moments are simply wonderful.
For me writing history and writing about real people, real lives, real events – real human dramas rather than fictional ones – will always be my abiding love. The key is never to allow it to become boring, to do one's utmost to bring the subject to life, to tell the story as well as any novel, and, fundamentally, to always have an insatiable curiosity about the world.
The writers who inspire me
When writing, I find myself returning often to the words of two great writers I admire – the historian Simon Schama and the novelist Hilary Mantel, both of whom demonstrate the most extraordinary grasp of time and place in their work, but in different ways.
Writing in the Financial Times in 2015, Simon Schama described how historians and novelists can learn from each other:
The mindset of historians and historical novelists is not all that divergent. Both strive for …  imaginative re-enactment; the getting inside an event. Without a grip on evidence, the historical novel is empty fable; without imaginative empathy, history is all bones and no flesh and blood. 
'Imaginative re-enactment' – I like this very much, for it reminds of me my own mantra that history is story and that is what I try to convey in my own work – the evidence-based retelling of the past. 
My other favourite comment is that of Hilary Mantel, who is a master of the historical novel, made during the course of her second Reith Lecture for BBC Radio 4 in 2017:
The writer of history is a walking anachronism, a displaced person, using today's techniques to try to know things about yesterday that yesterday didn't know itself. He must try to work authentically, hearing the words of the past, but communicating in a language the present understands … The historian's trade is never just about stockpiling facts … to talk to their public, they use the same devices as storytellers – selection, elision, artful arrangement.
Having written two reference books for US reference publisher ABC-Clio during 1998–2001: a
Biographical Companion to Joseph Stalin
and a
Biographical Companion to Queen Victoria
, I took on the enormous challenge of compiling a 2-volume
Encyclopedia of Women Social Reformers
. Contrary to normal academic practice with reference works, I did not delegate the writing of the entries to a team of writers in the various categories, but researched and wrote all the entries myself – amounting to over 400 women from around the world, across a wide range of disciplines.
These three books were a valuable grounding in history writing for me and vastly expanded my general knowledge of women's history. It provided the impetus too for a lasting desire to recover lost women's stories. My only regret is that I have not been able to persuade the publishers to make these books more widely available in cheaper paperback editions.
The move from academic reference to trade history
My first trade book for a mainstream publisher came in 2007, and it was the subject closest to my heart from school days:
No Place For Ladies: the Untold Story of Women in the Crimean War
I followed this with my first Romanov book in 2008: Ekaterinburg: The Last Days of the Romanovs. Then came my book on the early life of Lenin, Conspirator: Lenin in Exile 1900–1917 (2009) and a return to Queen Victoria with Magnificent Obsession: Victoria, Albert and the Death that Changed the Monarchy (2011). Before going back to the Romanovs in 2014 with Four Sisters: The Lost Lives of the Romanov Grand Duchesses (in the USA The Romanov Sisters), I wrote a shorter book about a Victorian con-artist: Beautiful For Ever: Madame Rachel of Bond Street, Cosmetician, Con Artist and Blackmailer (2010) and collaborated with the curator of the Fox Talbot Museum, Roger Watson, on a book about the birth of photography: Capturing the Light (2012).
The publication of Four Sisters brought enormous success in the USA as The Romanov Sisters and it was in the NY Times non-fiction best sellers for 11 weeks. It has also been signed for nine foreign language editions to date. After that, I was determined to write a book for the important 100th anniversary of the Russian Revolution in 2017. The result was Caught in the Revolution: Petrograd 1917, which has also been translated into several languages. By then I knew I was not altogether done with the Romanovs and that there was one more book I wanted to write: and again it was tied to a very important moment – the 100th anniversary of the Romanov murders in Ekaterinburg in 1918. After three books and 11 years in their company, The Race to Save the Romanovs: The Truth behind the Secret Plans to Rescue the Russian Imperial Family, is my farewell to Russia's last Imperial Family, thought not a final goodbye to Russia.
I am currently exploring various ideas for the next book: perhaps a return to the Victorians, or something different from an earlier period in Russian history. Watch this space!
Radio & television talking heads & historical consultancy
Over the years I have had a wide range of experience as a specialist interviewee on things Victorian and Russian, for a variety of radio programmes. In the main these have been for BBC Radio 4, such as Woman's Hour, Start the Week, the Today Programme, as well as local BBC radio stations. I have also been interviewed by a range of commercial stations in the UK, Canada, Australia and the USA.
My appearances in TV documentaries have been numerous, beginning with my contribution to a major documentary about the Jamaican nurse, Mary Seacole, The Real Angel of the Crimea, for her bicentenary in 2005 and for which I was also historical consultant. More recently I appeared in a segment about Mary Seacole for BBC1's The One Show and in an ITV documentary In the Shadow of Mary Seacole (2016),  about the creation of the Mary Seacole statue that now stands in the grounds of London's St Thomas's Hospital. 
As a Victorian specialist, I have been asked to appear on numerous television documentaries about the Victorians and  Queen Victoria, such as those in which I discussed the Queen with Lucy Worsley: Fit to Rule and Tales from the Royal Bedchamber, both in 2013. I was a talking head on Victoria and Albert for two 3-part documentary series about the Queen: Queen Victoria's Children for BBC2 in 2013 and Queen Victoria's Tragic Family for Channel 5 in 2018. I have also spoken about Prince Albert in a forthcoming Channel 5 documentary for transmission next year.
I first appeared as a Romanov expert in two National Geographic Mystery Files documentaries about the murder of the imperial family and Rasputin  in 2010.     In 2014 I was a key contributor and historical consultant for BBC2's two-part documentary Russia's Lost Princesses, based on my book Four Sisters. A year later I appeared in another documentary on The Last Days of Rasputin for Channel 5.  In 2017 I appeared in two documentaries about the Russian Revolution, one for Netflix and the other for BBC2.
During 2015–17  I worked as historical consultant on the first two series of ITV/PBS TV's drama, Victoria. Historical consulting for TV brings its own very particular challenges and I recently described some of them in a conversation on BBC radio's The Arts Hour, which you can listen to HERE
Literary festivals and public speaking
My experience as a public speaker is extremely wide ranging. I have lectured on Russian topics for Saga Cruises to the Black Sea and Baltic, for the Royal Oak Foundation on an extensive US lecture tour in 2016 : Philadelphia, Chicago, New York, San Francisco, Washington, LA and New Orleans. In 2018 I was a guest lecturer at the Rancho Mirage Writers Festival in Southern California. I have also spoken at the Harvard and Yale Clubs in New York and Hillwood Museum in Washington.
On the UK circuit I have taken part in events about all my books at major literature festivals including Althorp, Appledore, Cheltenham, Edinburgh, Fowey, Gloucester, Hay, Knutsford, Litchfield, Morley, Oxford, Port Eliot, Scarborough, Sherbourne, Ways with Words Dartington, Words by the Water Keswick. This autumn 2018, I will be appearing at the BBC History Magazine Festival in York and at Dublin History Festival.
In addition I have been a guest speaker at a wide range on societies and institutions such as The Victoria & Albert Museum, The Wallace Collection, Dulwich Picture Gallery, Pushkin House London, Kensington Palace, the National Portrait Gallery, the Florence Nightingale Museum, the National Archives at Kew, the Royal Albert Memorial Museum in Exeter, The Royalty Weekend at Ticehurst and various history conferences in UK universities. In the autumn of 2018 I shall be speaking at the Queen's Gallery, Buckingham Palace and 2019 at Mary Washington University, Fredericksburg VA.
For details of all my future speaking engagements see my EVENTS page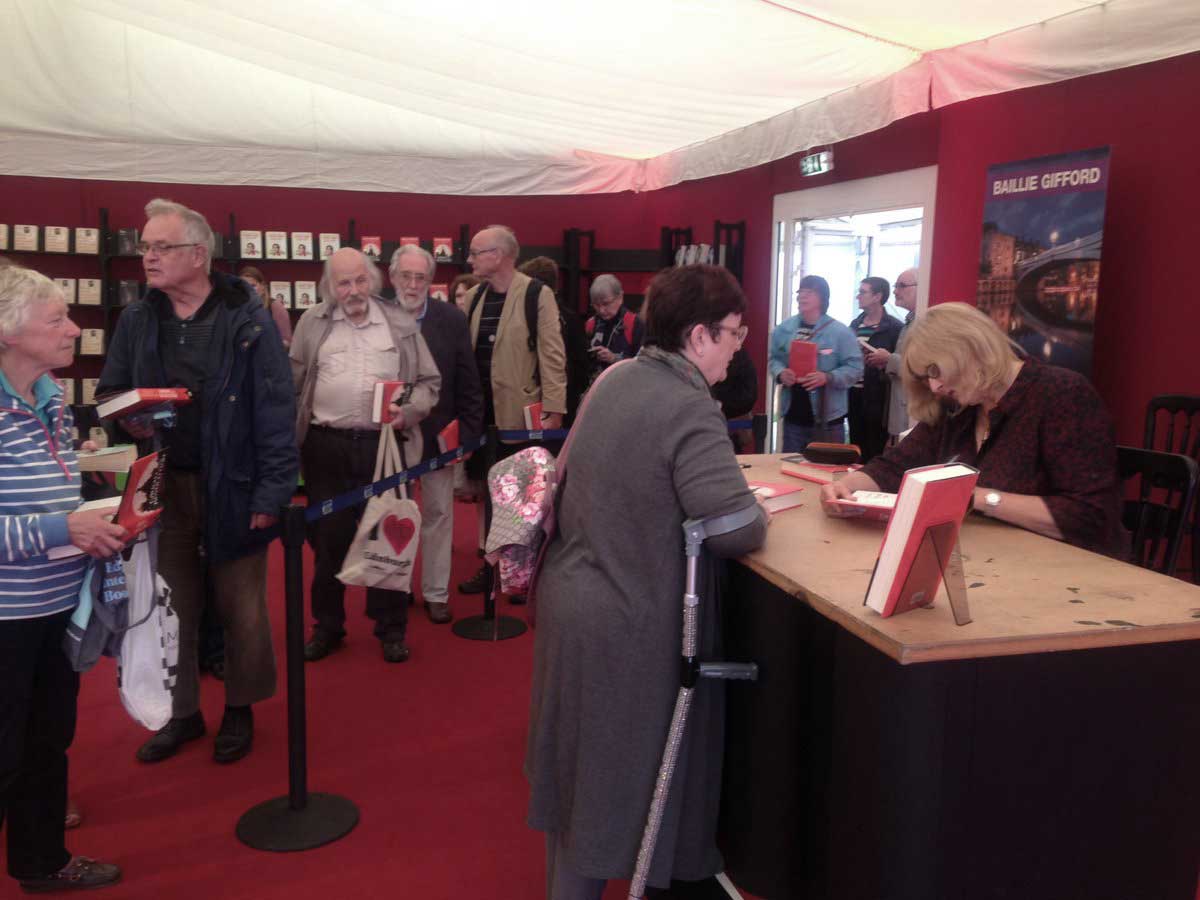 In 1971 I graduated from Leeds University with a degree in Russian Special Studies and although I eventually pursued a full-time writing career I have used my Russian since the 1970s as an occasional literal translator for playwrights working in the British theatre. My main work has been with the plays of Anton Chekhov and I have translated all of his extant plays, some of them more than once. I have also translated Gorky and Ostrovsky.
My work as a literal translator is to provide a faithful, linguistically accurate translation, accompanied by detailed historical and stylistic notes, which form the the basis from which the playwrights concerned have created their own new versions. In this regard, I have worked with Tom Stoppard, David Lan, Kevin Elyot, David Hare, Nick Wright, David Harrower, to name but a few, and with leading directors Sam Mendes, Katie Mitchell and Trevor Nunn.
In 2002 I worked in close collaboration with director Trevor Nunn and his cast, as Russian consultant on the extraordinary Tom Stoppard trilogy
The Coast of Utopia
. This 19th century saga about the lives and mixed fortunes of the Russian revolutionaries Bakunin and Herzen in exile was staged at the National Theatre in London and later transferred to New York.
It has been a particular pleasure for me to have had my last three books translated into Russian and published by Eksmo in Moscow. It may in fact be something of a record for a British female historian to have achieved this in the Russian market, which makes me doubly proud. Here they are, left to right: Four Sisters, Caught in the Revolution and The Race to Save the Romanovs.
Sign up for Stories From the Footnotes of History
Please fill in this form to receive the latest stories in my Footnotes series — on hidden or little known & previously unpublished stories that I've uncovered during my research.
I will also send you regular updates in this newsletter about my work and speaking events.
[/db_pb_signup]